Gender Non-Conforming, Queer, Non-Binary and/or Trans Folx*
* This class series will center the experiences of trans, gender non-conforming, and non-binary participants in many of our discussions and scenarios; however it is open to any student who self-identifies as being marginalized or targeted on the basis of gender, perceived gender, sexuality or perceived sexuality.
In this 6 week Level I Self-Defense class series, students will learn how to assess potentially unsafe situations, recognize signs of escalation, and practice skills that interrupt harassment, intimidation and violence. In a safe and supportive environment, we will practice verbal strategies (including boundary setting, de-escalation and bystander intervention) as well as physical self-defense techniques.
Fee:  Sliding scale $150 – $275
Dates:   Summer 2020 dates TBD
Time:  6:30pm – 8:30 pm (12 hours total)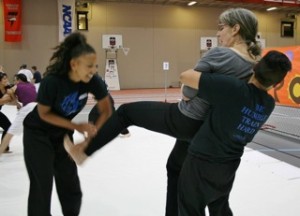 *This series is open to anyone who is marginalized on the basis of gender presentation regardless of gender identity. Please email our director at 

selfdefense@handtohandkajukenbo.com

 for more information.
Join our email list to be notified about our upcoming self-defense classes