In the 6 Week – Level I Women's* Practical Self-Defense class series, students learn how to assess potentially unsafe situations, recognize signs of escalation, and practice skills that interrupt harassment, intimidation, and violence. We teach verbal, physical, and emotional strategies that empower women and girls so they can make appropriate choices and create more options for themselves. Role plays, peer-based learning, and teacher-led discussions on the roots of violence and oppression, along with rigorous physical training, boundary setting scenarios, and conflict resolution exercises provide women and girls with the information and techniques needed to keep them safe.
Fee:  Sliding scale $150 – $275
Dates:  6 consecutive Mondays - September 10th, 17th, 24th, October 1st, 8th, and 15th
Time:  6:30pm – 8:30 pm (12 hours total)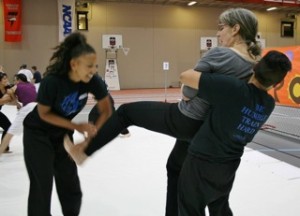 *Women's Self-Defense classes are open to women and girls self-identifying as female including transgender and non-binary individuals. We also have classes open to all genders and male-identified students. Please email our director at 

selfdefense@handtohandkajukenbo.com

 for more information.