Gender Non-Conforming, Queer, Non-Binary and/or Trans Folx
In the 6 week – Level I Self-Defense class series for *people identifying as trans-, gender non-conforming and/or non-binary students learn how to assess potentially unsafe situations, recognize signs of escalation, and practice skills that interrupt harassment, intimidation, and violence.
In a safe and supportive environment, *participants marginalized or targeted on the basis of gender, perceived gender, sexuality, or perceived sexuality will learn to assess potentially unsafe situations and gain skills to interrupt harassment, intimidation and violence.
We will practice verbal strategies including boundary setting, de-escalation, and bystander intervention as well as physical self-defense techniques.
Fee:  Sliding scale $150 – $275
Dates:  Mondays – January 13, 20, 27 February 3, 10, 17, 2020
Time:  6:30pm – 8:30 pm (12 hours total)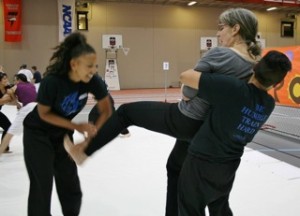 *This series is open to anyone who is marginalized on the basis of gender presentation regardless of gender identity. Please email our director at 

selfdefense@handtohandkajukenbo.com

 for more information.
Join our email list to be notified about our upcoming self-defense classes