Self Defense Fall 2020: Online Class
What is self-defense in the world we are living in today? What does it mean to assert ourselves, set clear boundaries, and protect ourselves in current conditions?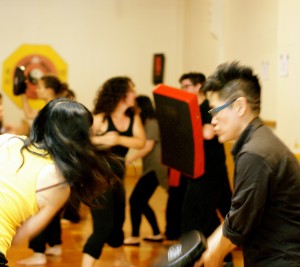 Hand to Hand Kajukenbo Self Defense Center is offering a self defense class that will support our individual and collective exploration of these questions. Our founder, Coleen Gragen, began teaching self defense at Hand to Hand 40 years ago so that women and girls could learn to assess potentially unsafe situations in order to interrupt harassment, intimidation and violence. Building on this legacy, our highly supportive, 2 hour online class will be open to all and taught by instructors with over 20 years of experience.
Please join in:
Learning to protect yourself from invasive and dangerous situations including physical assault.
Gaining insight into the complexities of violence in our current context
Acknowledging how we are all impacted by sexism, racism, and gender oppression, regardless of our personal identities.
Identifying the links between personal safety and community wellness, while learning practical skills to protect both.
.
Our goal is to create an exploratory learning environment where we can all begin healing from violence.
Please come wearing comfortable clothing you can move in.
When: October 24th, 2pm – 4pm (PST)
Where: Please register and you will be sent a zoom link
How Much: Sliding Scale, $5-$100. Pay what is meaningful to you.